The BOSS Hydraulic range of high force tools and equipment including cylinders, pumps, hydraulic and mechanical tools, jacks and workshop equipment.
Manufactured to the highest quality standards, the BOSS Blue range is backed by a lifetime warranty against defects, so you can't let your BOSS do the hard work'. As part of the PT Hydraulics team, supplying hydraulic solutions to the Australian and New Zealand market for over 35 years, you can depend on BOSS to get the job done at a good honest price.
BOSS Hydraulic Cylinders
The BOSS range of cylinders meet or exceed ASME B30.1 Standards and includes both single and double acting rams, aluminium based cylinders, hollow, low profile and locknut cylinders in various sizes to cater for various stroke and pressure requirements between 350 – 2000bar.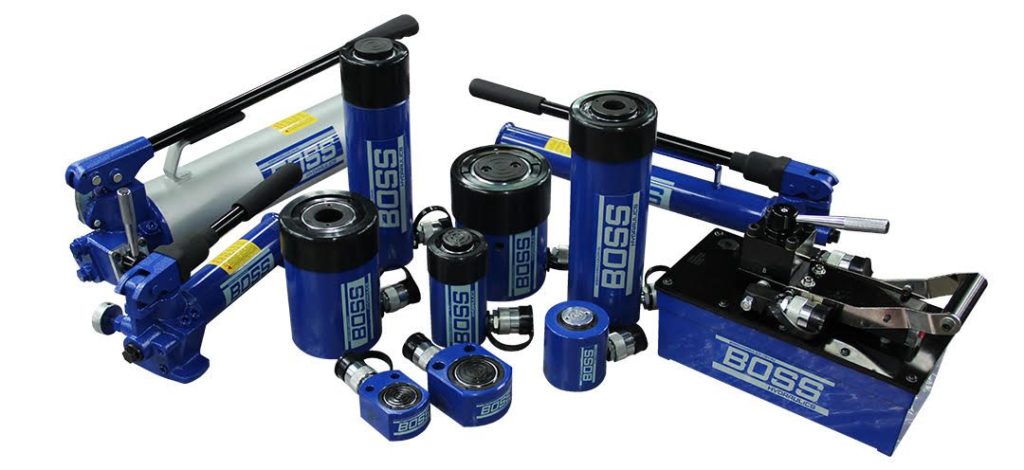 BOSS Hydraulics Hand Pumps
The BOSS range of hand pumps features Heavy Duty, Large Tank, Aluminium and Portable styles to cater for a wide variety of applications.
Large Tank Hand Pumps: Are great for use with larger cylinders. Our Large Tank Hand pumps consist of an integrated reservoir and over-pressurisation protection and are available in Single and Double acting models.
Aluminium Hand Pumps: Come in Single and Double acting models and in a 2-speed design for maximum efficiency.
Portable Hand Pumps: Are best for Single Acting applications only. They include a built-in handle for easy operation and carrying around the work site.
BOSS Hydraulics Electric Pumps
Our range of BOSS Electric Pumps come in Single and Double acting models. Integrated with a two speed pump design, these Electric Pumps can withstand a maximum working pressure of 10,000 psi / 700 bar.
Available in either 1/2 HP (0.45kw) or 3 HP (2.2kw) brushless motor
Thermal protected induction motor
Comes with either Manual or Solenoid Valve Control
Available with 2 Way 2 Position, all the way up to 4 Way 3 Position Valve functionality
3m Pendant supplied with all models
Boss Hydraulics Air Pumps
Our range of BOSS Air Pumps come in either a Single or Double acting models to suit applications with a maximum working pressure of 10,000 psi / 700 bar
The PA models are designed to be used with standard single acting cylinders, and PAD models are designed to be used with double acting cylinders.
Aluminium reservoirs on all models
Internal relief valves all set at 10,000 psi / 700 bar for full circuit protection